WASHINGTON, DC – The WWE Royal Rumble will not take place this year, as newly elected President Donald Trump signed an executive order repealing it, effective immediately.
President Trump has been busy repealing several of former President Barack Obama's policies this week, including the disastrous Obamacare program and Trans Pacific Partnership trade agreement. White House officials say the Royal Rumble repeal was in a stack of other documents and that Trump signed it without fully understanding what it was.
The Royal Rumble is WWE's flagship pay-per-view every January, where storylines begin to form and build towards WrestleMania. Trump's ruling ends an annual pro wrestling tradition that dates back to 1988, and leaves WWE scrambling with a new way to crown a challenger for the WWE title at WrestleMania.
"(Trump) was on a roll, repealing this, repealing that," said Press Secretary Sean Spicer. "He signed whatever was put in front of him. Somehow the Royal Rumble was in that stack, although we don't really know how it got there."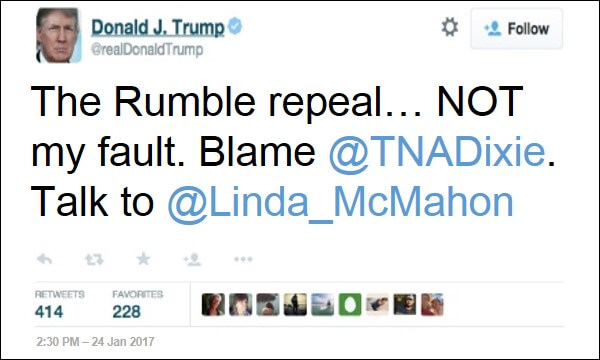 House Republicans believe the bill, called "The Affordable Pay-Per-View Act," was secretly sneaked into the stack by Congressman Jim Cooper, a Democratic member of the House of Representatives representing Tennessee. Cooper has strong ties to fellow Tennessee resident Dixie Carter, who previously ran TNA Impact Wrestling. TNA has been a direct competitor of WWE for fifteen years.
When reached for comment, Carter neither denied nor confirmed the rumor.
"I'm not saying I did it, but I'm not saying I DIDN'T do it," she said from her office in Nashville. "Let's just say that this little southern belle may have gotten one last dig in before she turned over the keys to Anthem."
The 'Anthem' Carter referred to is Anthem Sports, the entity that recently purchased a controlling interest in TNA Wrestling from Carter and others in late 2016. Cancellation of the WWE Royal Rumble would hurt WWE's image with its fans, and thus may serve to benefit TNA as fans look for an alternative.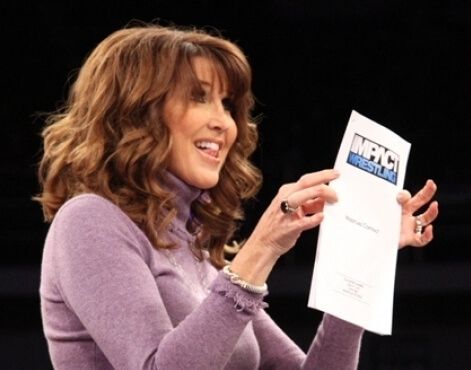 "Oh CHRIST ALMIGHTY!" shouted Vince McMahon in his distinct voice from his office at WWE's corporate headquarters in Stamford, CT. "This ruins EVERYTHING! We were all set to crown a winner and challenger for WrestleMania, and now all my plans are out the window! Hunter, put together a press conference, NOW!"
Wrestling fans inquired about details of the Royal Rumble repeal, including the possibility of airing the show for free on the USA Network instead of the WWE Network. After all, the Royal Rumble first aired for free on USA in 1988.
House Minority Leader Nancy Pelosi (D-CA) responded to such inquiries by saying, "I don't know. We have to pass the bill so that we can find out what's in it."
Some fans weren't pleased.
"That stupid b*tch," remarked wrestling personality Don Callis, who planned on traveling to San Antonio, TX to attend the event live. "She said the same damn thing about Obamacare, and look where that got America. Now the Royal Rumble is gone, I hope she's happy."
Callis, who just landed an announcing gig with New Japan World, was planning to attend based on rumors that his friend Kenny Omega may debut as a surprise entrant in the Rumble. Omega, currently the hottest free agent in the world stemming from his match of the year with Kazuchika Okada at the Tokyo Dome, has been pursued by WWE when his New Japan contract ends later this month.
But now those plans will have to be changed.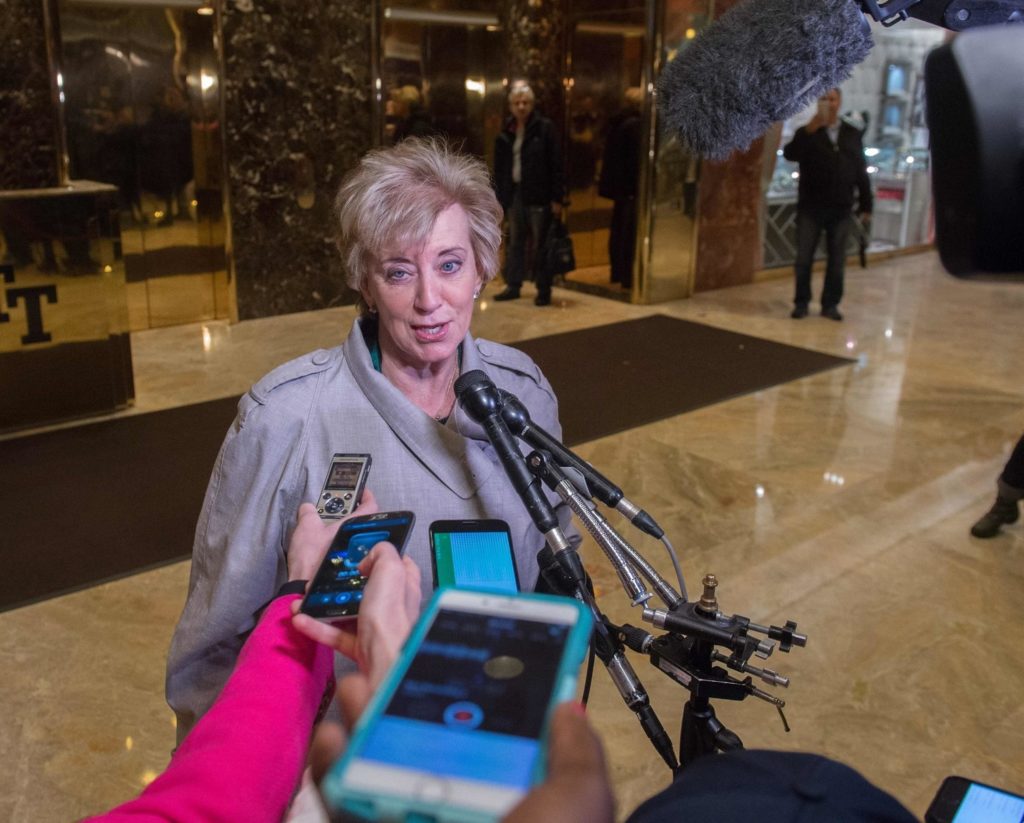 "I don't blame Donald for this," said former WWE executive Linda McMahon. "He was just trying to undo the damage of the previous administration. It's not his fault that Congressman Cooper snuck in this bill at the last minute as a favor to Dixie Carter."
Wrestling fans are hopeful that Linda McMahon, who is expected to have a position in Trump's administration as Small Business Administrator, will use her connections to have the bill reinstated before next year's Royal Rumble would be expected to take place.
"I'll do my best to make that happen, yes," said Linda to reporters outside Trump Towers. "I'll work on the Donald, there's no reason for this show to not take place anymore."
Meanwhile, Anthem Sports is furious at Carter over her alleged actions.
"Can that woman possibly screw things up any further??" asked TNA's new managing director, Ed Nordholm. "Jesus Christ, she nearly blew up the negotiations to sell her own damn company to us all year, and as her last parting shot, she screws both WWE AND TNA. Wrestling fans aren't going to suddenly flock to TNA because of this; they're going to PISSED at us!"
Indeed, Nordholm may be correct. One wrestling fan who had front row tickets for the Royal Rumble at the Alamo Dome voiced his complaints on Twitter.
"If TNA is responsible for this, we're never watching their show again! We want our Rumble, b*tches!" he tweeted Tuesday evening.
WWE stated they will not be refunding fans who had already purchased tickets to the live Royal Rumble event. Instead they will be issued credit that can only be used to purchase Roman Reigns merchandise.