Critics Say He's Taking Religious Beliefs Too Far
LAS VEGAS, NV — Following the bible reading assignments issued in episode 2 of The Ultimate Fighter, coach Matt Hughes has taken it one step further and ordered all members of Team Hughes to undergo an immediate circumcision. Upon successful foreskin removal, they will then be baptized, sent to confession, and enrolled in a 2-week online Christianity course that will result in receiving the Holy Communion the morning following the Ultimate Fighter 6 Finale.
Hughes, a devout Christian, said he believes his fighters' newfound faith and lack of penile nerve endings will increase their odds of winning fights.
Some of his teammates, however, are saying Hughes is forcing his religious beliefs on them in an unprofessional manner.
"I came here to fight, not get skin sliced off the head of my c*ck," said Mac Danzig, who defeated Joe Scarola in this season's first episode.
"It's one thing to pass out bibles and ask us to read nine pages, it's another to mess with our manhood."
"I'm really angered about losing millions of nerve endings in my foreskin," added Dorian Price, who lost his fight against Matt Arroyo in episode 2.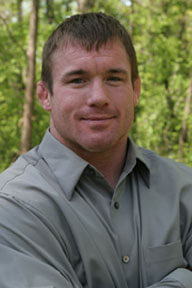 "Right now, sex to me is in color. After circumcision, it'll be in black and white. My parents left me au natural for a reason, and just because Hughes has different beliefs, that's all out the window."
Over on Team Serra's side, coach Matt Serra said he's hardly surprised.
"What a dick," he laughed. "Don't ask me how the Ultimate Fighter house turned into a Goddamn church. Circumcision?? That's such a prick move, and I can't wait to fight this guy in December."
Asked if his teammates are glad they aren't with Team Hughes, Serra responded with a question.
"Would YOU want to have a scalpel near your Mr. Happy? And even if you did, would you want it done during fight camp, when you're supposed to be mentally focused on training 24 hours a day?"
Serra added that he has no plans to remove his team's foreskin.
"If anything, I'm handing out penis pumps tomorrow," he said half jokingly.
In episode 4 of The Ultimate Fighter, scheduled to air on October 10, Hughes can be seen calling an emergency meeting with his team. At the gym, he takes a poll on who is already circumcised, and roughly half the team raises their hands. He then dismisses everyone back to the Ultimate Fighter house, where co-trainer Mark Hughes (Matt's twin brother) is waiting for them in the bathroom, ready to examine each fighter's private areas.
Based on advanced footage seen by reporters, Hughes' fighters are seen reluctantly entering the bathroom, one by one, and then exiting with embarrassed looks on their faces. Members of Team Serra can occasionally be seen in the background, chuckling and antagonizing the uncircumcised fighters with extra large banana peels.
"This is the most humiliating week of my life," said Danzig. "I totally regret coming here and I wish I was with (Team) Serra."
Dana White appears later in the episode, announcing that for the remainder of the season, Serra's fighters must be extra careful in avoiding low blows, and that any fighter caught doing so will be immediately disqualified.
Hughes said that unlike the bible readings, the circumcisions aren't optional.
"They have to do this, plain and simple," he stated. "And that's just the first step. They'll then get baptized, which means they're all going to be my Godchildren. Holy Communion is the long term goal, at the finale. Win or lose, it doesn't matter. We're fighting for Jesus, and with His help, we're gonna win this thing."
Episode 4 ends with all fighters talking each other out of suicide, except for Joe Scarola, who ends the show complaining to Serra that he needs to call his girl back home just once.